InventoryLab Inc.
January 13
The InventoryLab team is full of dedicated remote workers spread across the United States and China. We blog from RVs, basement offices, co-working spaces, industry conferences.... and we might be in our PJs.
InventoryLab's New Settings Are Here!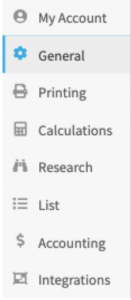 If you're a current IL user, you may have noticed recently that your Settings look a lot different. Or maybe you saw the most recent IL newsletter. But just in case you don't already know, we have some big news for InventoryLab users that we're excited to share! We've been hard at work behind the scenes to bring our users the new and improved account Settings, which debuted on January 11, 2021.
How Do The New Settings Benefit IL Users?
We're always looking for ways to make our product (and your IL experience) easier and more efficient. The needs of our customers always come first; you spoke, we listened. And we didn't just make improvements to the existing account settings, we've completely overhauled them. With a whole new look and arrangement, IL Settings are now more efficient and easier to use than ever before!
Here's a breakdown of what IL users can expect:
New Features: 
-It's faster than ever to get to your Settings. Instead of clicking in a new area and losing your spot, Settings now pull up over the page you're already on and open right where you need it to. 
-When you're done, you can just close Settings and get right back to where you left off.
-You can now select a 'ship from' address from most countries in the world using IL.
-The Settings feature is now mobile friendly. Easy drag-and-drop and selection wheels allow you to change your settings on a smaller screen.
-The MSKU customization settings can be changed without having an open batch.
This is what the new Arrangement will look like:
*Plan and Billing
*Update Password
*Amazon Account Binding
*Contact Information
*Employees
General
*Stratify Entry Point
*Notifications
*Suppliers
*MSKU Customization
*Custom Research Shortcuts
*Manage Printer (Printer Setup and Label Test)
*Manage Label Printing
Calculations
*Scouting Profit Calculator Details
*Inbound FBA Shipping Rate
Research
*Ideal Buy
*Desired ROI
*Rank Thresholds
List
*Ship from Addresses
*Condition Notes
*Total Cost Calculator
*Auto-Pricing
*Box Content
*Remember Last Entry
Accounting
*Income Categories
*Expense Categories
*Disposition Management Defaults
Integrations
*Repricers (bQool, informed.co, Aura)
*Automation (Zapier)
Let us know what you think about the new and improved IL Settings and whether you think the new features make navigating IL easier than ever before.
Have any questions, comments, or suggestions about the new Settings feature or anything else? Check out our Support page or contact us at support@inventorylab.com. We're always here to help and appreciate any and all user feedback.
Happy Selling!