InventoryLab Inc.
December 12
The InventoryLab team is full of dedicated remote workers spread across the United States and China. We blog from RVs, basement offices, co-working spaces, industry conferences.... and we might be in our PJs.
10 Ways InventoryLab Helps Amazon Sellers
Average Read Time: 4 minutes
InventoryLab has been the standard for Amazon sellers since 2014, and we are the industry leader for inventory management software. Our priority is to provide the most value and best customer service to our subscribers. How do we do that? Listed below are ten ways IL can help you run your Amazon selling business more efficiently to help you stay organized and increase your profits!
1. Tools For Success
InventoryLab provides users with two main applications: our desktop version Stratify and our mobile app Scoutify 2. Stratify helps you with inventory management, identify profit margins, track operating costs, create shipments, and perform accounting tasks. Scoutify 2 helps you research and source the best and most profitable items to sell.
Users can access insightful webinars right through Stratify that provide information on how to use IL as well as selling tips and tricks. Our online support portal provides helpful articles, FAQ's, and an entire seller support community.
From regular feature updates and improvements to robust online support, we provide all the tools Amazon sellers need to stay profitable.
2. Reporting Capabilities
Subscribers now have more reporting capabilities than ever before right at their fingertips. Need to know which products or selling categories are most profitable for your business? There's a report for that. Want to better understand your overall profit margins or operating costs? We've got you covered. Trying to get a handle on the information you need for tax season? You guessed it – there's a report for that too!
InventoryLab's comprehensive reports can provide you with detailed, easy-to-understand snapshots of how your business is performing, profits and losses, seasonal and quarterly trends, as well as expense and tax information. Best of all, you can create custom views to help you tailor each report to your specific needs.
3. Inventory Listing
InventoryLab's List includes multiple features and the capability to list products in the Amazon Catalog. It also works with the products sellers already have in their inventory when it comes to restocking. Users can automatically print product labels as they list while creating FBA (Fulfilled By Amazon) batches or Merchant Fulfilled Batches to send to Amazon.
4. Inventory Tracking
InventoryLab makes inventory tracking easy! Our software helps you manage and replenish your inventory easily and efficiently. At a glance, users can see the quantity, purchase date, supplier, and unit cost for each and every item. Need to edit replenishment information for multiple items? No problem. Our Bulk Edit feature makes the process seamless!
5. Sourcing Simplified
InventoryLab's mobile app Scoutify 2 makes sourcing profitable inventory simple and convenient. Users can see per unit cost, product details, set their target ROI%, and estimated Amazon fees. Need to know where a product ranks in its category? Scoutify 2 will calculate that too!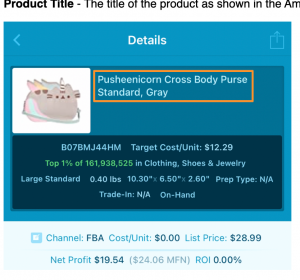 6. Accounting Features
InventoryLab's accounting features help users understand important metrics so they can focus on running their business more smoothly. Sellers can calculate and track profit and loss, ROI for each product, expenses, mileage, income, and get organized for tax time.
7. Save Money
How does InventoryLab help cut costs for users? Simple. Since our software is an all-in-one product, it means sellers won't need to spend money on additional, unnecessary apps or software. We provide our users with everything they need to streamline their business processes, get organized, and stay organized.
8. Save Time
While saving money is great, time is also a commodity no one can afford to have less of. When an Amazon seller has access to the right tools to run their business more efficiently, as well as the support they need when things don't go quite as planned, that means they have more free time to focus on the things that matter most in their lives.
9. It's About More Than Just the Software
At IL, we know it isn't just all about the product we provide our users. We want Amazon sellers to have all of the information and education they need to become successful. That means keeping sellers up to date on Amazon news, providing tips and tricks for selling on Amazon, and advising them of eCommerce trends.
We provide in-depth, topic-specific webinars that are accessible right on our website or through Stratify. In addition, our Open Lab show, which you can watch live on YouTube or Facebook every other Thursday at 4:00 ET, provides a forum where viewers can ask questions in real time. We have an InventoryLab User Guide and plenty of support articles on our site to help those who are just starting with IL and those with years of experience.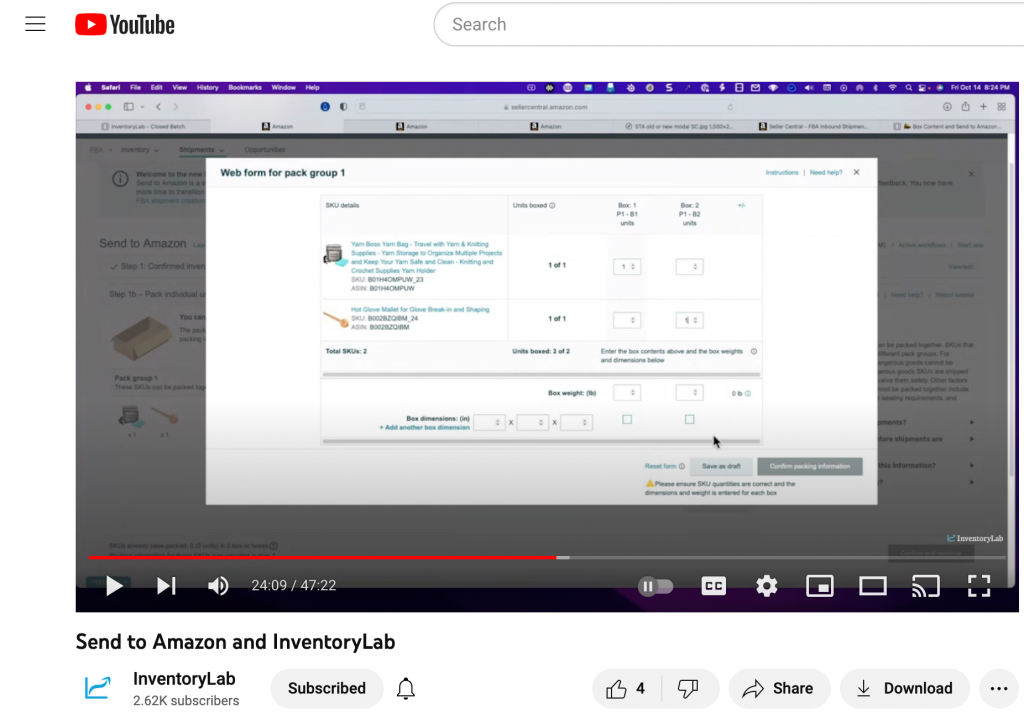 10. Superior Customer Service
Without great customer service, a business' days (and reputation) are numbered. After all, it really is all about the customer! We have the best customer support in the industry, hands down (and yes, we're definitely biased)! We provide our subscribers with technical support seven days a week. Having an issue? You can contact us via email at support@inventorylab.com or open a ticket.
We even offer live chat from 10 a.m. to 3 p.m. ET most days (subject to change), and our experienced, professional Customer Champions are always ready to deliver an exceptional and personable experience to each and every user. We won't quit until your issue is resolved!
Are you an Amazon seller who'd like to find out for yourself what we can do for you and your business? Try InventoryLab today by signing up below for our 30-day, risk-free trial. No credit card needed, and if you aren't convinced that InventoryLab can help you run your Amazon business better and more efficiently than ever before, you can cancel at any time.
Happy Selling!