InventoryLab Inc.
October 14
The InventoryLab team is full of dedicated remote workers spread across the United States and China. We blog from RVs, basement offices, co-working spaces, industry conferences.... and we might be in our PJs.
Grace Under Pressure
Staff Spotlight on Grace Holt, Business Analyst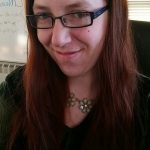 In September we welcomed Grace to the team as our new Business Analyst! She has the experience and skills to bring something special to the role, and we're excited that she's on board. Read on to find out more about one of the newest members of the IL family!
Grace's Official IL Bio:
I have spent most of my career working to improve the products used at my jobs. I fell naturally into the BA role as I continued in my IT career because I love breaking down complex problems and working directly with users. I love Eric Raymond's approach to development, and one of my life highlights was getting to meet him at FOSSCON in Philadelphia.
Outside of work, I love to read (especially First Contact Sci-fi), garden, and play board games and D&D with my friends. I live in upstate New York with my partner, who is himself a software engineer, and our beautiful tuxedo cat, Boots.
5 Questions For Grace
1.) What do you do at InventoryLab?
I'm a business analyst with InventoryLab, so I help plan strategically for the future by developing guidelines for exciting new features, and I work with developers to find solutions to improve the application. 
2.) How do you unwind and relax?
I read or listen to audiobooks to relax! Some of my favorites for their narrations are Ringworld, Coraline, and the Bobiverse series (beginning with "We Are Legion: We are Bob").  
I also love playing board games like Catan, Sherlock Holmes: Consulting Detective, and Betrayal at the House on the Hill. I play Dungeons and Dragons with friends most weeks. 
3.) What is your favorite movie?
I love how spooky the original Pet Semetary is, and I think it's a great adaptation of the book tonally. I can still hear the neighbor trying to talk poor Louis out of his plans. 
4.) If you could travel anywhere in the world, where would you go first?
I would go to Norway to watch the aurora. I lived in Alaska for a few years but never managed to see it, and I've heard it's very clear in northern Norway. 
5.) What is a skill you would like to learn?
I stopped learning the flute because I switched schools, and I would love to pick it up again someday! 
We think we have a pretty great staff here at InventoryLab, and we'd love for you to see some of the faces and personalities behind the scenes. To that end, we've created our IL Staff Spotlight Series. Each post in the series will include five questions and answers about the employee so that you can get to know them a little better. We'll include a photo, each employee's official IL bio, and information on some of the things they've created and achieved in their time here. Maybe the rest of us at IL will even find out some things we didn't know before about our teammates!