The InventoryLab team is full of dedicated remote workers spread across the United States and China. We blog from RVs, basement offices, co-working spaces, industry conferences.... and we might be in our PJs.
IL Print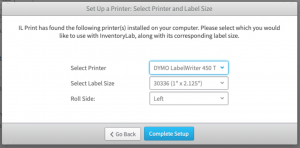 Whether you're new to InventoryLab or have been a customer for years, one topic we get a lot of questions about is IL Print. IL Print is our tool for setting up your DYMO, Zebra, Brother, or Rollo thermal printers. With IL Print, not only will your printing capability be more reliable, you won't have to worry about browser updates getting in the way of printing labels!
Even if you've been using IL for a while, there might still be some things you don't know about IL Print, such as:
-You can customize your labels as you print to accommodate different workflows. For example, users who pack as they list may prefer the option to automatically print labels after adding items to batches. 
-There is also an option for labels to print as items are scanned while assigning box content.  Users who import buy lists to list often prefer the option to print all the labels for a batch at once.
-You can include expiration dates for products on labels when they are entered while listing.
-You can print both FBA and MFN labels with InventoryLab using IL Print. Your FBA labels will include the FNSKU barcode, FNSKU, Condition, Title, and expiration date if applicable. An MFN label prints with an ASIN barcode, Condition, Title, and expiration date if applicable. 
-If labels ever need to be reprinted after a batch has closed (or if you just forget to print labels), this can be done under List>Closed Batches or from the Inventory pages anytime.
-You can switch your label size quickly on the fly. Just click on Print Settings and make the change. If you have a DYMO twin turbo printer, you can easily change your roll side.
-IL Print is compatible with both Mac and Windows computers.
 -Each sub account can have their own printer and options set up separately from the owner account.
-If you missed the full quantity of an item and need to increase it, you can select your printer to automatically print the exact additional quantity. 
-Make sure you have a thermal printer since IL Print is not compatible with regular printers. You can use IL Print with DYMO, Zebra, Brother, and Rollo thermal printers. 
Have any issues or burning questions for our amazing support team? Just want to know more about IL? Check out our support page here, submit a ticket here, or send us an email at support@inventorylab.com.
Happy Selling!