InventoryLab Inc.
March 18
The InventoryLab team is full of dedicated remote workers spread across the United States and China. We blog from RVs, basement offices, co-working spaces, industry conferences.... and we might be in our PJs.
Introducing IL Checklists
At InventoryLab we're always looking for new and innovative ways to help our users run their businesses more efficiently. With that in mind, we've been working on several new features and rollouts.
In this week's blog, we're excited to announce our new InventoryLab checklists! We've developed this new feature to bring our users a comprehensive and easy way to navigate throughout the software.
Our first new checklist, launched in late February, is the IL Introductory Checklist. This checklist will help users optimize their settings as well as add Buy Costs.
When users open Stratify (the InventoryLab desktop application) for the first time, they'll receive a welcome message that congratulates them on getting started.
Once the Got It! option is chosen, the user's IL account will begin connecting to their Amazon seller account in Seller Central. It also lets the user know that a checklist is coming and even offers them the option of watching a video about settings changes that are helpful: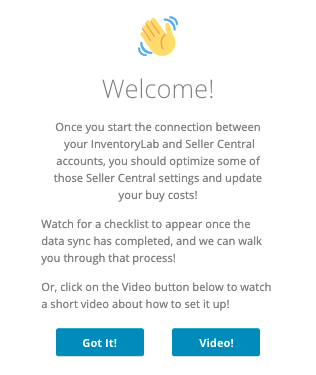 Once the connection and synch between IL and Amazon's Marketplace Web Service finishes, the first step in the checklist, Connecting to Amazon's MWS, will display a strikethrough line, indicating it has been completed.
The checklist will then let users that they're on the right track! It will provide options for Commingling, turning off Amazon notification emails, and how to add the Buy Costs.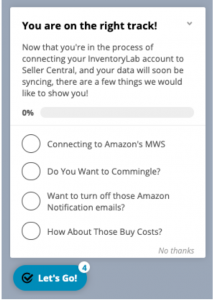 If a user is new to InventoryLab, there will likely be some terms and options they're not familiar with yet. One of these options is Commingling. Once the Do You Want to Commingle? option is chosen, the checklist will explain what commingling is, whether or not it's right for the user based on the pros and cons, and a link to a support article explaining more, including how to turn that on or off in Seller Central.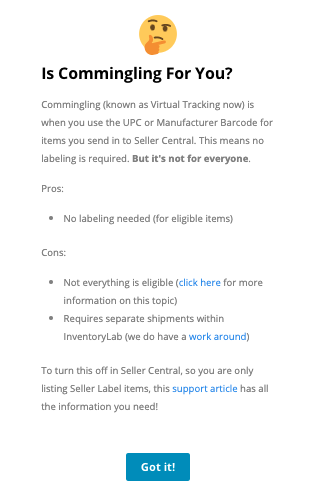 When users choose the option for turning off notification emails from Amazon, the checklist will explain about the default setting for this within their Seller Central account. It also provides a link to a support article that explains just how to turn these notifications off.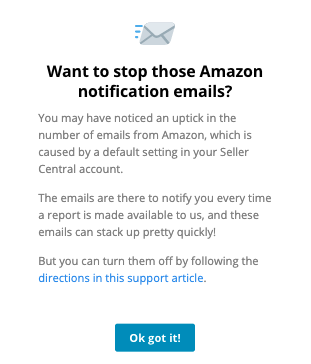 If a user chooses the How About Those Buy Costs? option, they will be shown several steps once they click the Next! button. Once their Buy Costs are either added manually or imported, this task will be completed.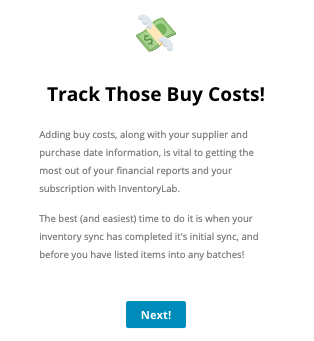 Once done with those steps, users will move into the Buy Cost addition to sales for items that have been archived or were deleted before they began using IL.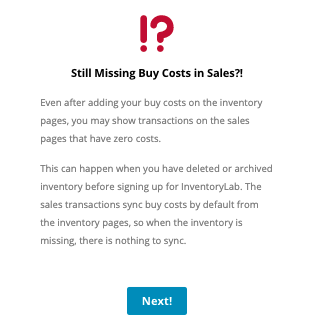 This option also provides several steps to complete. It then lets users know that once they are subscribed they can pull in all their historical data. It also explains that once that's complete, users may have to complete this part again to get everything synched.
Excited to see more? We have more checklists in the works as well! Our latest checklist helps users create batches, list items, create shipments, add box contents, and then send that information to Amazon.
Want to know more about InventoryLab and what we offer Amazon sellers? Try your 30-day free trial here, no credit card needed!
Have questions? Need help? Contact our awesome support team at support@inventorylab.com or check out our support portal where you can find answers, solutions, watch tutorials, and much more.
Happy Selling!