Jeff Campbell
September 30
Q4 Storage Limits, Common Errors, & How to Correct Them
Amazon recently sent out an email about the storage limits for Q4, so in case you missed it, we thought we would go over the finer points here. But more importantly, we'll cover what you can do when you encounter these restrictions when trying to list items through InventoryLab. 
The storage limits were bound to change, I suppose, since they have increased the number of fulfillment centers in the USA to 33. Each one of these has a total storage capacity of 35 million cubic feet (which is a lot of storage), but with an estimated 2.5 million sellers on the platform they can fill up quickly. This is why they limit your storage based on how well you are doing on their platform. They don't want their fulfillment centers to turn into storage facilities. 
Inventory Performance Index
Amazon measures how your account is doing, and in turn how much storage you earn, with the IPI score on your account. This IPI score, or Inventory Performance Index, is set based on how well your account was doing (based on sales volume and the previous year's seasonal volume if applicable) at a couple of check weeks prior to the upcoming quarter. So in order to keep your IPI high, or even improve it, you need to do four things (also noted on this page in Seller Central): 
*Reduce excess inventory to increase profitability
*Increase sell-through to balance your inventory weeks of cover
*Ensure inventory is buyable by fixing listings that are stranded
*Increase sales by keeping popular items in stock
The IPI dashboard for your account displays a performance bar for each of the four categories, so you can tell at a glance how well you are doing or what areas you need to improve.  
The most recent check weeks Amazon used were the weeks of July 12th and August 10th, so your IPI had to be above 500 during either of these time frames or you would be subject to storage limits during Q4. Amazon has also set 500 as the minimum IPI score for the remainder of the year. 
However, you won't be subjected to the limits if you are a  new seller that has been active for less than 26 weeks or without enough sales data to generate an IPI score during both of the two score check weeks. 
And this only applies to the Professional Selling Plans on the monthly rate since the Individual Selling Plans are limited to 10 cubic feet. This page breaks down the difference between the two plans. 
Error Messages
You may encounter error messages when listing through InventoryLab, if you are at or above your storage limits in Seller Central. These errors come directly from Amazon, and you will either have to reduce the quantity of the item to get below your storage limits or you may have to remove the item entirely. 
If you have to edit the quantity of the item in question, the article Edit Quantities in Your Shipment shows you how to do that. If the error requires you to remove the item from the batch or shipment, the article Deleting Items From Your Shipment details those steps. So let's have a look at the most common errors we get this time of year and what you need to do in order to resolve each one. 
One type of error you may see is an Over Volume Capacity error on a certain storage type of items, such as flammable liquids: 

This error message comes directly from Amazon, and it means that you have reached your maximum storage capacity for Flammable items. You will not be able to add the item to your batch since a batch is essentially starting a shipping plan through Amazon's API (the program 3rd parties use to communicate with Amazon).
You can try adding less of the item, but if that fails then the only way to resolve this error is to see if Amazon will increase your storage limits. You can request a storage limit increase from Seller Support, and If they are able to increase that limit, you would be able to add the items to the batch once your capacity updates through the MWS.
If they do not increase your storage capacity, you can always sell it as Merchant Fulfilled and list it in that channel through InventoryLab. This Quick Start Guide shows you how to list your Merchant Fulfilled items using the same batch process that you do with FBA items. 
Another error that can happen is the Over Capacity Limit error for particular storage types. The NON_SORTABLE type shown below refers to the size of the item: 

In these types of errors, Amazon is referring to the size of the item. Amazon classifies oversized items as NON_SORTABLE and the standard size items as SORTABLE. In this case, the seller is over their limit for oversized items and the quantity in the shipment would have to be lowered, or the item would have to be removed. Amazon does NOT give us the information as far as how much space you have left. If you have multiples of the item that is generating the error, you can try editing the quantity to see if you can get below that limit and prevent the error from appearing again. If not, then you would have to remove it from the shipment. 
During Q4 we also seem to get more OVER_ASIN_GUIDANCE errors, which are limits that Amazon places on ASINs that they feel they have enough of in their fulfillment centers. When this happens, you cannot send this ASIN in until Amazon removes the ASIN from the limits. The text of the error usually comes through like this: 

According to Amazon Seller Support, if you encounter this error: 
"FBA guides sellers to align their inventory supply with buyer demand, and they check if there are sufficient inventory capacities for the given items. You are already at the maximum inventory allowed for this product, due to capacity or other restrictions.  
Recommended Action: Item must be removed from your batch to finish creating your shipment."
The COVID19_LIMIT_EXCEEDED error is still showing up periodically as things are gearing up for the busy holiday season. The error will look like this: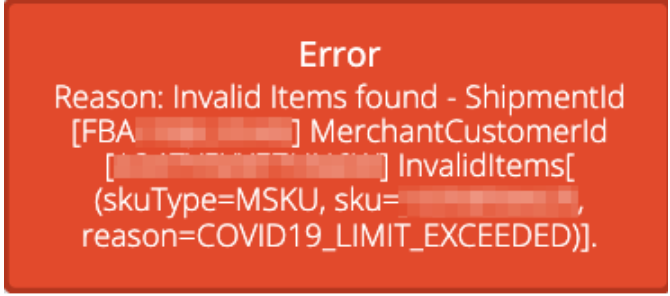 Amazon announced on July 13th in the news section of Seller Central, that they will have some ASIN level quantity limits that can generate this type of error. Unfortunately, due to the nature of this error message, it is not one we are able to bypass on our end. You would have to edit the quantity to get below the limits or remove it completely from the shipment. 
If you ever have questions about any of these or other types of errors, don't hesitate to reach out to support so we can assist you. Just click on the Support Menu within Stratify (the desktop InventoryLab application) to create a case, or if you prefer you can open a chat session (available Mon through Fri, 8am to 5pm Eastern) with a Customer Champion. Either way, we are happy to help!